This weekends baking project was a Gluten Free Coffee and Walnut Cake to accompany my favourite roast lamb dinner with Roasted whole New Potatoes, Leeks and Greens and Balsamic Roast Chantelle Carrots.
Took Recipe from here at hungryhinny.com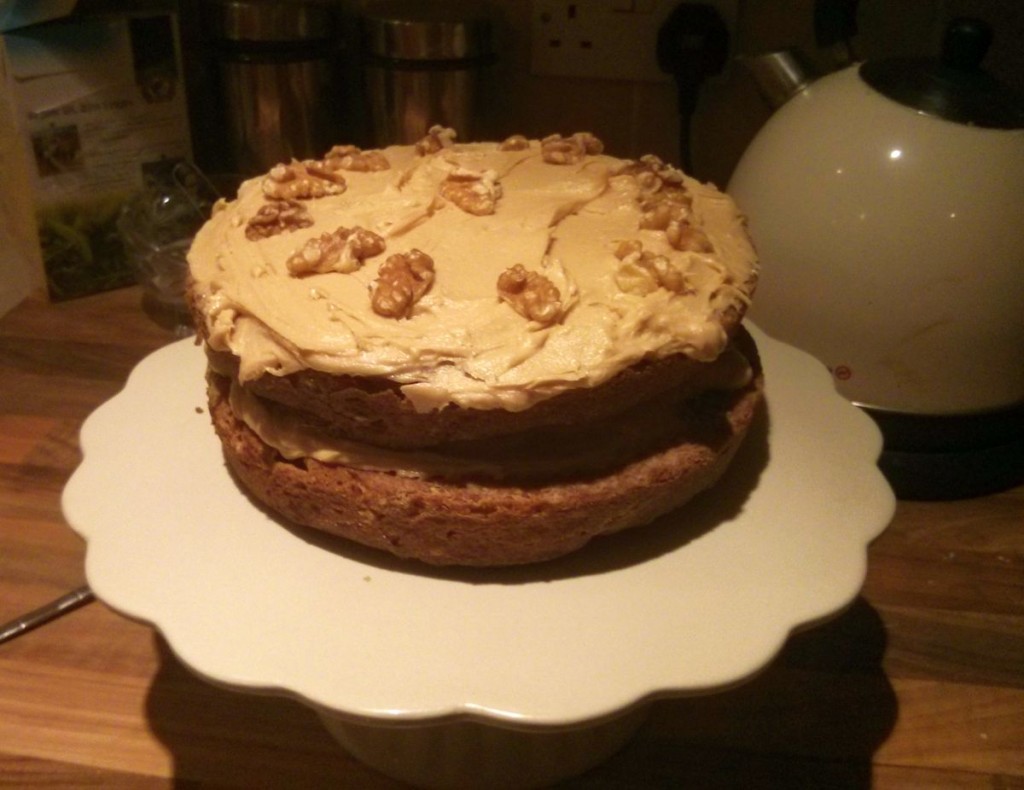 Ingredients
50g walnut halves, plus 8 extra to decorate
225g goldencaster sugar
225g butter
4 eggs
225g gluten free plain flour (Doves Farm)
1 tsp xanthan gum
2.5 tsp baking powder
3 tsp instant coffee
2tbsp milk
For the icing
125g butter
300g icing sugar
2 tsp instant coffee
1 tbsp milk
Blitz the Sugar and Walnuts in a food processor until Walnuts finely chopped.
Add sugar, walnuts, butter and eggs to food mixer and beat until creamed.
Sieve Flour and mix in Baking Powder and Xanthan Gum
Slowly add flower to food mixer whilst still beating.
Dissolve the coffee in 1 tsp water and 2tbsp of milk then add to mixer.
Mix until smooth.
Bake in two lined 7″ cake tins at 180C for 25-30 min.
Leave to cool in tins for 10min then cool on a cooling rack.
For the icing using a mixer/blender
Sieve the icing sugar and add the butter and beat until smooth.
Dissolve the coffee in a tsp of water and 1tbsp of milk.
Beat until coffee mixed through the icing.
Top with Walnut 1/2's
Came out way better than I thought, moist light sponge.