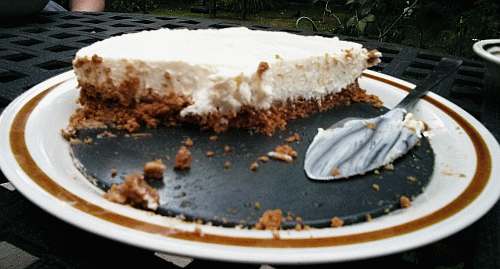 Customised this recipe to boost the Lemon Flavour and make Gluten Free and give more buttery biscuit base.
http://allrecipes.co.uk/recipe/27373/my-yummy-lemon-cheesecake.aspx
Ingredients
30 Sainsbury's Gluten Free Digestive biscuits, crushed
1/2 tablespoon light soft brown sugar
70g butter, melted
1 (250g) tub mascarpone cheese
1 (200ml) pot single cream
1 (397g) tin condensed milk
3 Large Sicilian lemons, zested and juiced
Method
Stir together the digestive biscuits, soft brown sugar, and melted butter.
Empty into a 22cm cake tin and press out level.
Leave to chill in the fridge while you make the base.
Mix together the mascarpone cheese, single cream, condensed milk and lemon zest. Slowly add the lemon juice to the mix a small bit at a time.
Pour onto your chilled base, then return to the fridge overnight for it to set.