Having searched around for a decent free web based media server to stream my music to my laptop I stumbled across Jinzora
It has a natty web-front-end to my music collection, manages the collection via id3 tags and will even pull down images of the artists, artist bio's and even lyrics. The playlists can either be saved as .m3u and played via your local music player (winamp worked for me) and streamed from the server, also a the free XSPF flash player can be used to keep it all in your browser.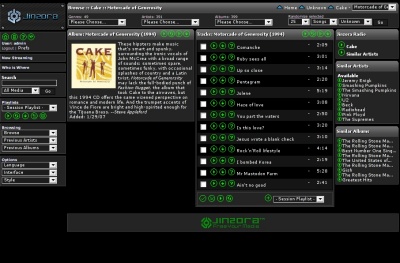 Unfortunately the webapps-experimental gentoo overlay is a little out of date so had to cobble together my own ebuild that seems to work ok for my server.
If you've got a big old music collection and want to stream it from a website or home server I'd certainly recommend taking a look at the Jinzora demo I tested it on a linux LAMP setup but it should work on windows IIS or Apache too.